Characterised by a fusion of advanced technologies, digital transformation is a major priority for the European Union. As the biggest global donor of development aid, the EU also aims to streamline digitalisation into its development policy. Drawing from its know-how and commitment to a successful digital transformation in line with its Digital Single Market Strategy, the EU was an active participant in the discussions during the E-Commerce Week (1–5 April) in Geneva, organized by the United Nations Conference on Trade and Development (UNCTAD).
On Monday, 1 April, EU Ambassador Walter Stevens took part in a high-level panel discussionfocusing on ways to enhance and streamline the digital dimension in development cooperation.
"We are aware of the fact that digitalisation can be a strong driver of sustainable development and inclusive growth," EU Ambassador Stevens said in his opening remarks at the panel organized by UNCTAD  and GIZ, the German Society for International Cooperation.
The EU is the largest donor of development aid in the world, and its development policy is becoming increasingly digital friendly, reflecting its commitment to achieving the 2030 UN Sustainable Development Goals. Digital technologies and services have a key role in improving lives in societies all over the world, for example by empowering women and girls, enhancing democratic governance and transparency, and boosting productivity and job creation.
EU at the UN ‑ Geneva@EU_UNGeneva
"Digitalization can be a strong driver of #SustainableDevelopmentand inclusive growth" EU Amb Stevens said today at #UNCTADeWeek. EU & its Member States are the leading providers of developmental assistance & support @UNCTAD's work through #Digital4Development @giz_gmbh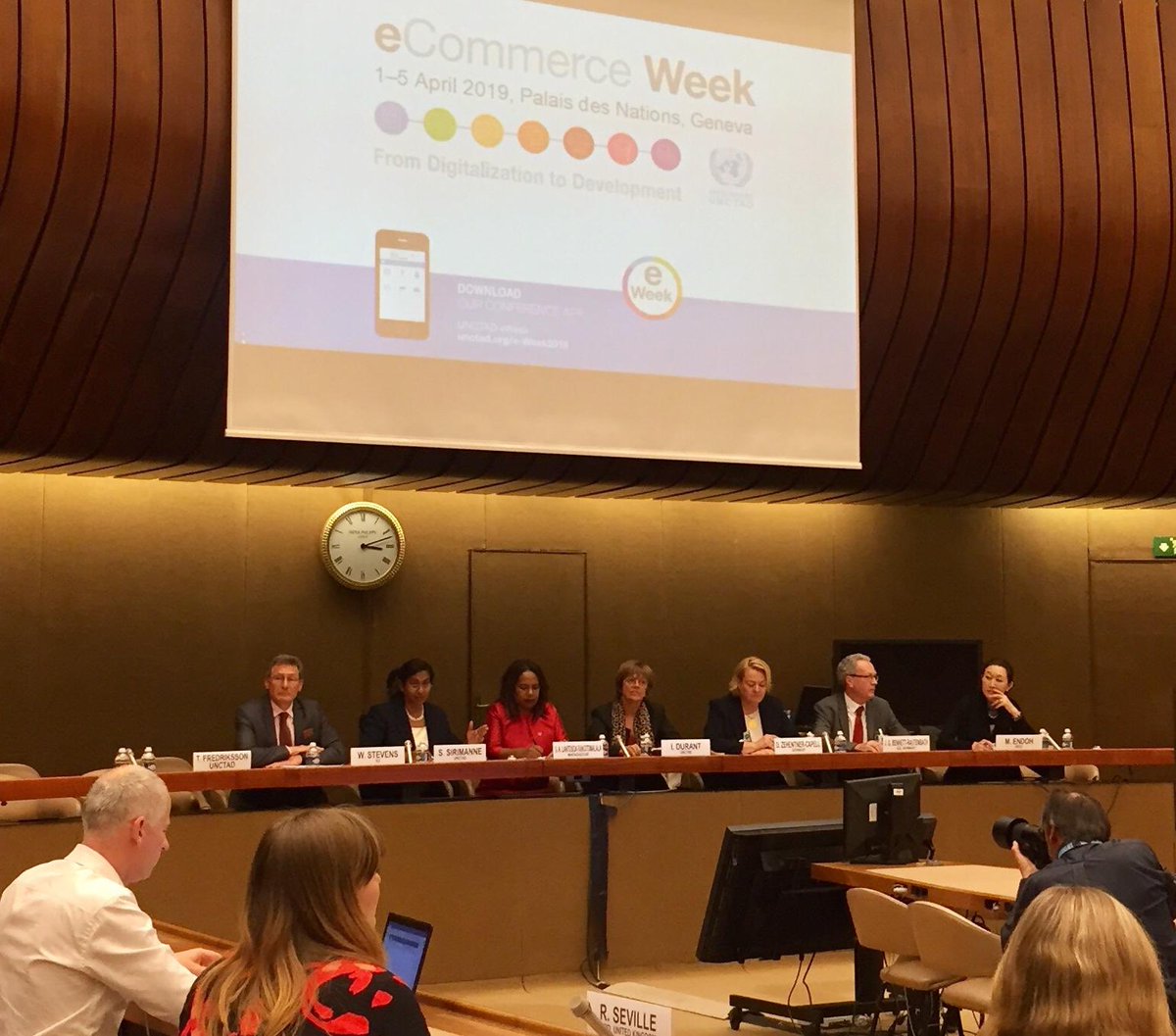 "In the last two years, the EU's international engagement has been shifting from a classical 'development' to a new 'partnership' mind set," EU Ambassador Stevens said. "In practice, this means working with a broad range of stakeholders: not only development agencies, but also the private sector and financial institutions, and addressing societal challenges related to digitalization in a holistic manner."
EU at the UN ‑ Geneva@EU_UNGeneva
EU's development policy is increasingly digital friendly & reflects our commitment to #Agenda2030. Development cooperation that invests in digital infrastructure, skills &entrepreneurship fosters sustainable development that leaves no one behind#UNCTADeWeek @DSMeu twitter.com/EU_UNGeneva/st…
In December 2018 a high level Digital Economy Task Force between the EU and the African Union has been launched. It provides a good example of the new approach to development questions by taking on board a broad variety of actors from from public institutions, private firms, International Financial Institutions, Development Agencies of Member States, and civil society coming from both continents. The Task Force will deliver its final report with recommendations for future cooperation between the two continents in June 2019.
The EU is committed to further increasing its contribution to development cooperation, and to donating at least 0.7% of its gross national income to development cooperation each year.
The digital transformation of business and society presents enormous growth potential for Europe and its developing partners. One of the key elements in the digital transformation is related to the role of online platforms.
On Thursday, 4 April, the EU Delegation to the UN organized a panel discussion titled "The role of online platforms in digital transformation – the EU's experience" in order to share views and exchange best practices on challenges and possibilities brought about by the recent surge in online platforms.
The panel featured  high level experts including Werner Stengg, Head of Unit in Directorate-General for Communication Networks, Content and Technology,  responsible for the new EU's platform to business regulation.
EU at the UN ‑ Geneva@EU_UNGeneva
Online platforms are vital to #SMEs which represent 99% of businesses in EU. They connect individuals, intermediate between consumers & businesses & recommend content. Understanding online platform ecosystems is key for success in the #digitaltransformation #UNCTADeWeek @DSMeutwitter.com/EU_UNGeneva/st…
The speakers highlighted the role of online platforms as providers of a variety of services, ranging from connecting individuals in the digital space, intermediation between consumers and businesses, to advertising or recommending content. Understanding the dynamics of online platforms is vital in undergoing a successful digital transformation. It is equally important to build trust among the different stakeholders – including businesses and consumers – taking part in the digital economy.
The panellists drew particular attention to the role of online platforms from the point of view of small and medium-sized enterprises (SMEs). For SMEs – which make up no less than 99 % of EU businesses –, online platforms and marketplaces have revolutionised cross border trade and advertising opportunities, enabling them to reach ever-wider publics. In order to achieve sustainable growth, the surge in digital platforms also has its implications for consumer rights and data protection.
The EU has years of experience in developing policies for online platforms from the consumer, e-commerce and competition angles. The new EU's regulation on fairness and transparency of online intermediation services – is the first legislative instrument worldwide to address online platform-to-business relationships, with the particular focus on strengthening the position of SME's who rely on online platforms. The new instrument, together with the existing body of EU law in the area of consumer protection, data protection and competition, will constitute a policy and regulatory framework for online platforms in the EU's Digital Single Market.
EU at the UN ‑ Geneva@EU_UNGeneva
Online platforms are key players in the #digital economy. EU has years of experience in developing policies for online platforms from the consumer, e-commerce & competition angle. We are sharing our knowhow at #UNCTADeWeek @DSMeu